Lontong Opor.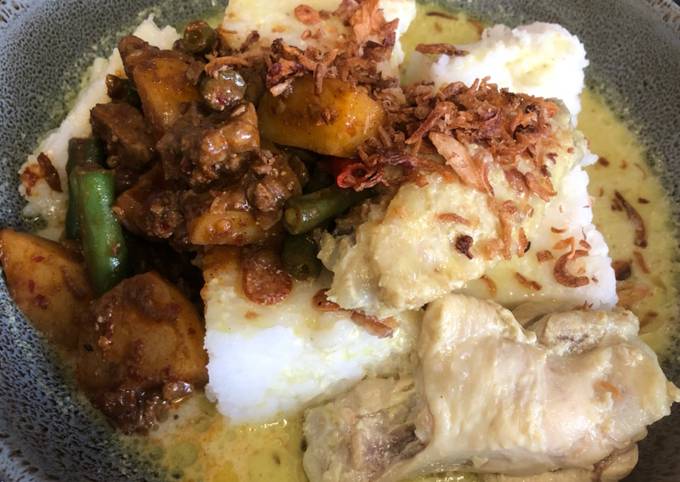 You can have Lontong Opor using 16 ingredients and 3 steps. Here is how you achieve that.
Ingredients of Lontong Opor
Prepare of Lontong.
It's 2 cups of rice.
It's 6-7 cups of water.
You need of Opor Ayam.
Prepare 1 of whole chicken cut off into 6-8 pieces.
Prepare 10 pcs of shallots (set aside 5 pcs to make fried shallot).
You need 4 pcs of garlic.
Prepare 3 pcs of candlenut.
Prepare 1 tbs of corriander seeds.
You need 1/2 tsp of turmeric powder.
You need 4 pcs of kaffir lime leaves.
It's 1 stalk of lemongrass.
It's 1/2 tsp of galangal powder (can be replaced with fresh galangal).
It's 100 ml of thick coconut cream.
It's 300 ml of water.
You need to taste of Salt, pepper and sugar.
Lontong Opor instructions
Lontong: rinse the rice, put on the rice cooker/sauce pan added the water and cook on medium heat, dont forget to stir every 10 mins to avoid burn on the bottom. Just make sure the texture a bit mushy but not soft as porridge. After that, prepare a pyrex or a square pan, put the rice on it with bit a pressure, then cover with cling wrap/aluminium foil. Put on fridge a couple of hour until a bit set, then cut off to your liking..
Opor: rinse the chicken put some lemon/lime juice to make the odor away. Put 5pcs shallot, garlic, corriander seed, turmeric, galangal, candlenut on food processor. Then heat a bit of oil, put them together with kaffir lime leaves and lemongrass, stir until you can smell the fragrance, then add the chicken. Stir until the chicken half cook, then put coconut and water. Dont forget add some salt, pepper and sugar to taste..
Fried shallot: thinly sliced the shallot, add some salt and if you want a bit crispy add 1 tbs of rice flour. Mix them together. Heat 1 cup of oil, let them until medium heat then put all the shallots. Fried until golden brown..