IPG's Roast Chicken Dinner.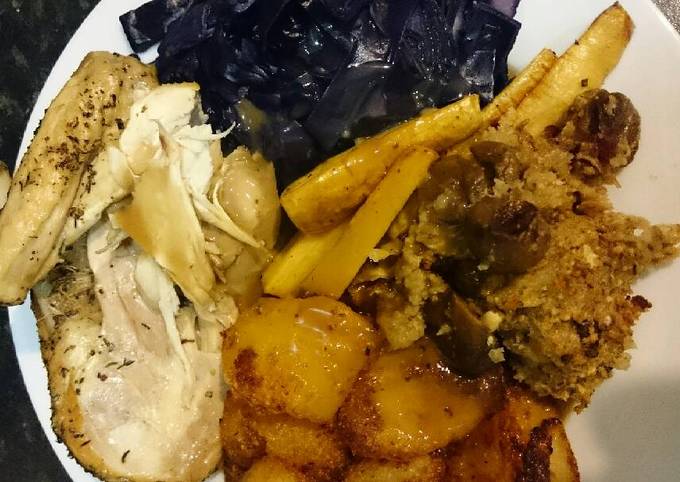 You can have IPG's Roast Chicken Dinner using 9 ingredients and 6 steps. Here is how you achieve that.
Ingredients of IPG's Roast Chicken Dinner
It's 1 pack of stuffing (sainsbury's orange, cranberry and chestnut is yummy!).
It's 1 head of broccoli or 1 pack tenderstem broccoli.
You need 1 of organic chicken, about 1.4 kg.
It's 2 large of potatoes.
You need 2 of carrots.
Prepare 2 tbsp of plain flour.
Prepare 1 tsp of red currant jelly.
Prepare 1 of chicken stock cube.
It's 1/4 tsp of gravy browning.
IPG's Roast Chicken Dinner step by step
Pre-heat the oven to 180C. place the chicken in a roasting tin, preferably with a lid but not essential, rub with a little oil, season with salt, black pepper and thyme, and add about 1 cm depth cold water into the bottom of the tin. Roast for 1 hr 45 mins. if using a lidded roaster, roast for the first hour with the lid on. If roasting without a lid, check the water level during roasting to make sure the tin doesn't dry out..
Peel and chop the potatoes into roast sized chunks, and boil for about 10 minutes. Then drain, add a few tablespoons of oil or fat, and shake gently around the pan until the edges of the potatoes are fluffed up and the potatoes are coated evenly with oil. Place onto a tray, and roast for 45-60 mins..
Slice the carrots length-wise, drizzle with a little oil and some black pepper, and roast for about 30 mins until soft. at the same time, prepare the stuffing according to packet instructions and bake for about 20 mins..
Steam the broccoli for about 10 mins or until tender, then add a knob of butter, some salt and pepper..
To make the gravy, heat a few tablespoons of oil or butter in a non-stick pan, and add 2 tbsp plain flour. cook, adding more oil or butter if necessary so that you have a fluid paste, for about 2 mins. Then, crumble in a chicken stock cube, and add any juices from the chicken or water gradually, until the desired consistency is reached. Add a tiny drop of gravy browning and stir in – add more until you get the colour you desire. Add a couple of turns of black pepper, and 1 tsp red currant jelly. Taste, and add more red currant jelly if it's still slightly sour..
Serve all together with a nice glass of red!.