Pav bhaji.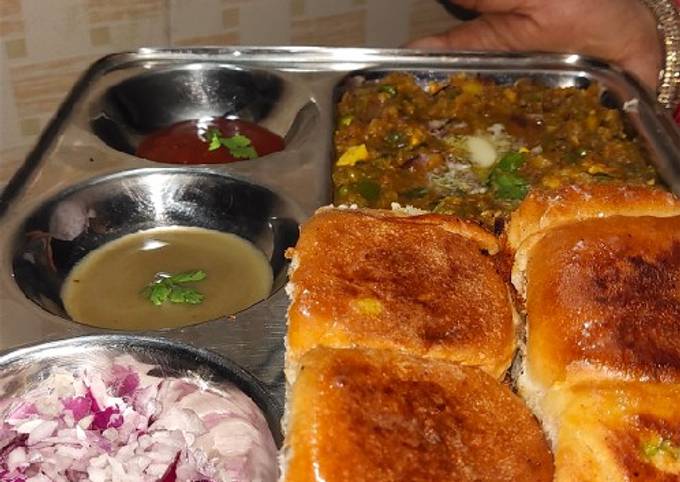 You can have Pav bhaji using 19 ingredients and 17 steps. Here is how you achieve it.
Ingredients of Pav bhaji
Prepare 2 of large potatoes boiled.
It's 1/2 head of cauliflower boiled.
You need 1/2 cup of frozen green peas boiled.
You need 1 tablespoon of vegetable oil.
It's 3 tablespoons of butter unsalted divided.
Prepare 1 teaspoon of cumin seeds.
Prepare 2 of medium red onion finely chopped.
You need 2 inch of ginger finely chopped.
It's 7 of garlic cloves finely chopped.
It's 1/3 cup of tomato puree store bought.
You need 3 of large tomatoes finely chopped.
You need 2 teaspoon of salt.
Prepare 2 cups of water.
It's 1 tablespoon of pav bhaji masala.
It's 1/2 teaspoon of red chilli powder.
You need 3 tablespoon of chopped cilantro.
It's 12-14 of pav eggless dinner rolls.
Prepare as needed of butter to toast the pav.
Prepare 1 tsp of pav bhaji masala to sprinkle.
Pav bhaji instructions
Take all the vegetables listed in the ingredients. Wash them in running water and cut them into small pieces..
Boil the veggies first and keep them ready..
Heat 1 tablespoon of butter and oil in a large pot on medium heat. Once the butter melts and oil is hot, add the cumin seeds and let them sizzle..
Cook the ginger-garlic-green chili for 1 minute..
Cook the onions for around 4 minutes until golden brown in color. Add the finely chopped ginger, garlic and green chili. Again, I used my food processor to chop them really fine..
Add chopped tomatoes and mix well. Let the tomatoes cook for 2 minutes..
Add tomato puree, 1/4 cup water and 1/4 teaspoon salt. Cover the pan and let the tomato cook for 6 minutes until softened and completely cooked..
Add the pav bhaji masala, red chili powder and remaining 1 teaspoon of salt. You may also add 1/2 teaspoon of sugar here (optional)..
Mix well and then add in 2 teaspoons of kasuri methi (dried fenugreek leaves)..
Stir in the boiled veggies and mix..
Using a potato masher, mash the veggies until they are completely mixed with the masala..
Add the remaining 3/4 – 1 cup water and mix. I used an immersion blender to blend the veggies to a paste like consistency, this is optional. You may keep them as such..
Cover the pot and set heat to low. Let the bhaji simmer on low heat for 15 minutes. Open the pot and add in the remaining 2 tablespoons of butter and paneer cubes..
Add a generous amount of chopped cilantro..
To toast the pav, melt butter on a pan. Sprinkle some pav bhaji masala on top of the butter and then place the buns on the pan..
Press to toast the pav until crisp and golden brown from both sides..
To serve the pav bhaji, place ladle full of bhaji in a plate. Top the bhaji with a dollop of butter. Serve with 2 pavs and a side of chopped onions and a lemon wedge. I like to serve with lots of onions on the sides, it tastes really amazing that way!.