Bone-in Center Cut Pork Chops w/gravy.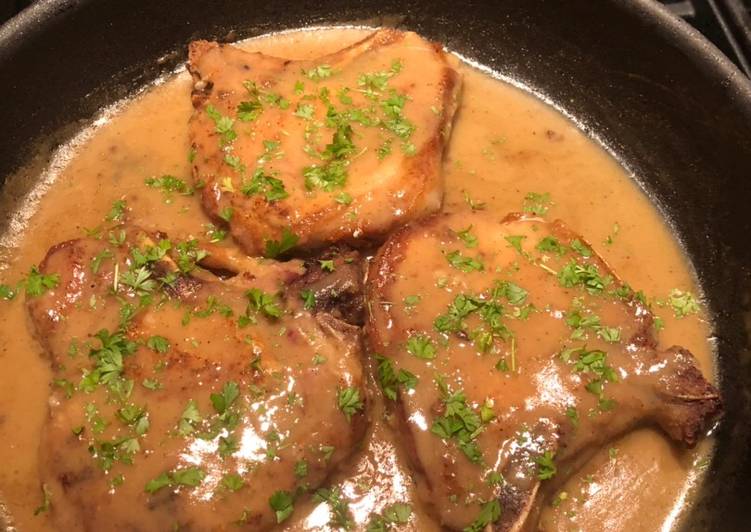 You can cook Bone-in Center Cut Pork Chops w/gravy using 12 ingredients and 5 steps. Here is how you achieve it.
Ingredients of Bone-in Center Cut Pork Chops w/gravy
Prepare 3 of Bone-in center cut pork chops.
You need 2 tbsp of canola oil, or peanut oil.
It's 1/4 cup of chopped parsley.
It's of Salt & pepper to taste.
It's of Sprinkle Garlic powder & Onion powder (after browning meat).
Prepare 2 tbsp of flour mixed with 1 cup water.
Prepare 1/2 cup of chicken stock.
It's 1/4 tsp of "Better than Bouillon" chicken flavor.
You need 1/4 cup of white wine.
It's 1 tbsp of fresh lemon juice.
Prepare 1/2 tsp of Gravy Master.
It's 2 tbsp of butter (unsalted).
Bone-in Center Cut Pork Chops w/gravy instructions
Pour oil into frying pan, med-high heat then add pork chops searing until browned on both sides (2 min + on each side).
Remove from pan & place in dish, set aside.
Add water & flour mixture slowly on low heat while using a whisk to lift all of those "flavor bits" from the browned pork chops and to keep smooth texture; add wine, chicken stock, bouillon, gravy master, butter (a little water if too thick)..
Place pork chops & drippings back into pan; sprinkle garlic & onion powder, salt & pepper to taste. Spoon gravy over pork chops, flip them to cover both sides with gravy; cover and cook on low heat for 15-20 minutes. (Depending on how thick your pork chops are it may take longer to cook).
Sprinkle chopped parsley on top and serve! This is great with Rosemary potatoes and sautéed fresh spinach. (see those recipes on my postings)..