Dosa (Indian Rice Crepe), Dosa batter #mycookbook.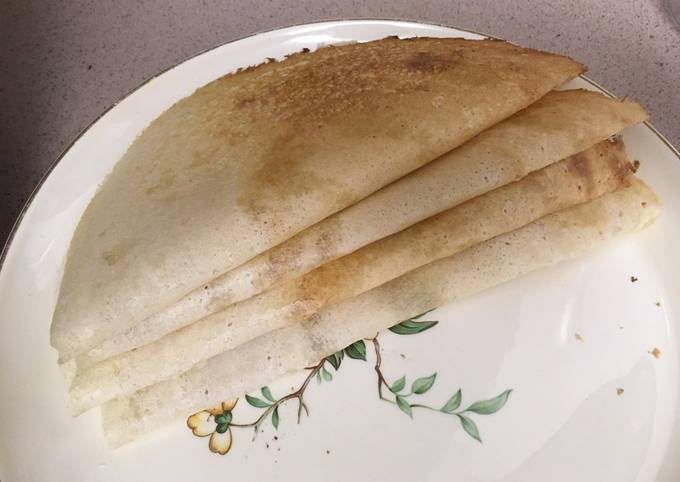 You can cook Dosa (Indian Rice Crepe), Dosa batter #mycookbook using 11 ingredients and 27 steps. Here is how you achieve that.
Ingredients of Dosa (Indian Rice Crepe), Dosa batter #mycookbook
You need of For the Batter.
Prepare 3 cups of rice.
It's 1/2 teaspoon of fenugreek seeds.
It's 1 cup of Urad dal/(split black matpe bean without husk).
Prepare 1 cup of thin flattened rice.
Prepare of Water.
Prepare of For the Dosa/ Rice Crepe.
You need of Salt as per taste.
Prepare of Oil/butter.
Prepare of Water.
Prepare of Batter.
Dosa (Indian Rice Crepe), Dosa batter #mycookbook instructions
Soak 3 cups of rice with a teaspoon of fenugreek seeds for 5 HOURS.
Soak 1 cup of urad dal /matpe bean for 3 HOURS.
Grind the soaked and drained urad dal into a fine paste, by adding little water. (don't make the paste too thin. We have to grind it finely and keep it as thick as possible).
Now grind the rice in the same blender..
Add the flattened rice little by little to the rice in the blender.(NOTE: Rice needs less water compared to the urad dal) Again, grind it finely but not watery. Keep the batter as thick as possible..
(The thicker the batter, the better it will ferment) The rice paste usually remains a bit coarse. Don't worry about it. Grind it as fine as you can. Little bit of coarseness doesn't matter..
Mix the urad dal and rice-flattened rice paste together in a large bowl with a spatula.
Scrape the sides and put on a preferably transparent lid after mixing very well..
Place it in the oven with the lights on for 8-10 hours/overnight to ferment..
If you live in a place with hot or humid weather, you can leave it on the counter top itself..
When it is well fermented, the quantity will double up and become thick and foamy. (That is why I mentioned'a large mixing bowl' in the beginning.).
Now for the dosa/rice crepe:.
Scoop as much batter as you need depending on how many crepe's you want to make. (1 spoon full =1 dosa).
Store the rest in an air-tight container in the fridge. (It remains good for 3-4 days).
Add salt as per taste to the scooped batter, and add about a tablespoon of water(optional) if you feel the batter is too thick. Mix well..
The consistency will look like this.
Heat up a griddle.
When the griddle is hot, sprinkle some water on to it and wipe it with a clean cloth.(this helps it to cool a bit).
With a preferably round spoon or ladle, take a spoon full of the well mixed batter and pour it on the griddle and then spread it out in a circular shape.
(The above mentioned step should be really quick after wiping out the water).
Add cooking oil / butter around the sides, and a few drops in the centre..
Put on a lid for it to cook well..
After 10 seconds, fold it into half and serve hot with any curry or side dish of your choice..
(Here I have served it with prawn curry) (check out my recipe for prawn curry).
At this point, you can place any stuffing of your choice in the middle, fold and serve..
The crispier it is, the better it is..
Enjoy 😉👍🏻.