Miso Glazed Salmon.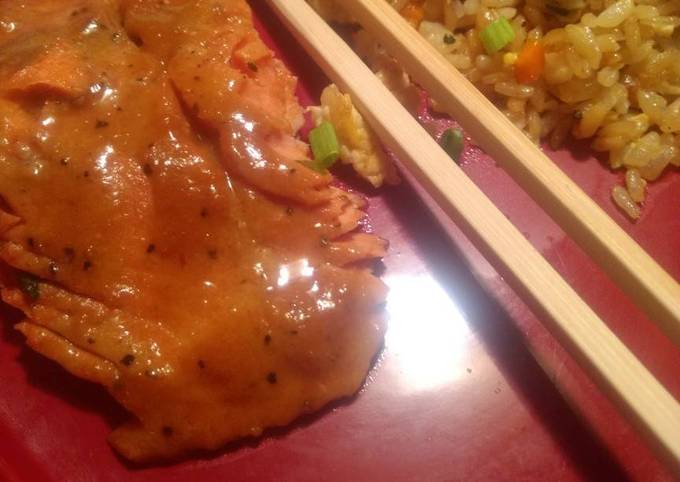 You can cook Miso Glazed Salmon using 9 ingredients and 9 steps. Here is how you achieve it.
Ingredients of Miso Glazed Salmon
Prepare 1 lb of salmon. I used sockeye.
It's 2 tbsp of butter.
Prepare 3 tbsp of soy sauce.
It's 2 tbsp of brown sugar.
Prepare 2 tsp of miso paste. White or red. I sometimes use one of each.
Prepare 1 tsp of sriracha.
You need of Juice from 1 lime.
You need 1 tsp of fish sauce.
Prepare 1 of thumb nail sized piece of grated ginger.
Miso Glazed Salmon instructions
In a small pot on low heat, melt butter.
Then add brown sugar, ginger, soy sauce, lime juice and Sriracha..
Turn heat off once brown sugar is dissolved and add miso. Whisk well to incorporate, add fish sauce to thin it out a bit..
Let cool to room temp..
Set oven to 425. Line a baking sheet with foil and place salmon on..
Make a few small slits on top salmon so sauce can drip in. Pepper the salmon if you wish at this time. You don't need salt, the sauce will be salty enough..
Add your sauce, using a spatula spread it evenly over your fish. Cover with foil..
Cook for 15 min in the oven..
If you find your fish isn't quite done and flakey, un cover it and cook on broil for 5 min.s.