Venison & Kimchi Ramen.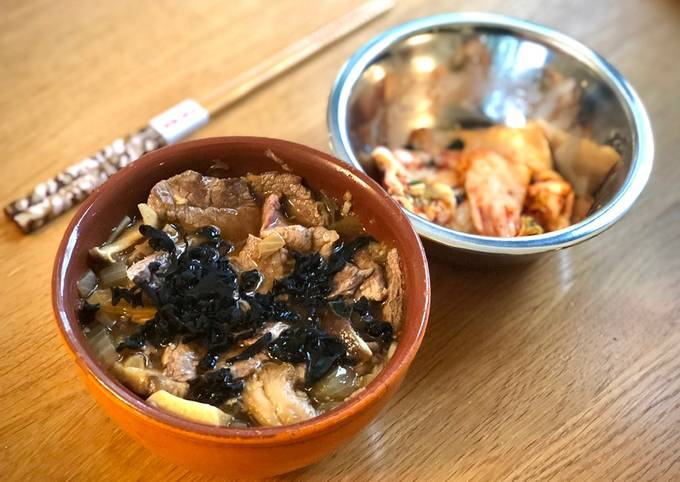 You can cook Venison & Kimchi Ramen using 13 ingredients and 5 steps. Here is how you cook that.
Ingredients of Venison & Kimchi Ramen
You need 2 cloves of garlic, minced.
It's 180 g of venison steak, cut into thin strips.
Prepare 10 g of fresh ginger root, minced.
You need 2 1/2 tbsp of soy sauce.
Prepare 1 1/5 tbsp of Mirin.
Prepare 2 tsp of sesame oil.
It's 100 g of woodland mushrooms, sliced.
It's 1/2 of white onion, diced.
Prepare 650 ml of Beef stock.
It's 140 g of Kimchi.
It's 2 tbsp of Kimchi liquid.
It's 80 g of soba noodles.
It's 2 tbsp of dried seaweed.
Venison & Kimchi Ramen instructions
First, prepare the broth. Heat 1tsp sesame oil in a large saucepan over a medium heat and gently cook the onion, garlic and ginger for a few minutes until softened. Add the soy sauce and mirin and cook for a further 2 minutes. Pour in the beef stock and the liquid from the Kimchi. Bring to the boil and begin to simmer. Add in the woodland mushrooms and simmer gently while you prepare the venison & noodles..
Cook the noodles according to the packet instructions (normally boil in water for 5 minutes for traditional soba noodles)..
While the noodles are cooking, quickly flash fry the venison: Heat up on a high heat a large frying pan with the remaining tsp of sesame oil and fry the strips for around 1 minute on each side. You're just looking colour the meat. As soon as this is done, transfer to a plate..
When the noodles are cooked and the venison is all fried, add this to the ramen broth and turn off the heat. Check the taste of the broth that it is to your liking..
Divide this mixture between two bowls, and sprinkle over the dried seaweed before serving. You can either serve the kimchi on the side or pop it on top for extra flavour and texture!.