Thai Chicken Curry.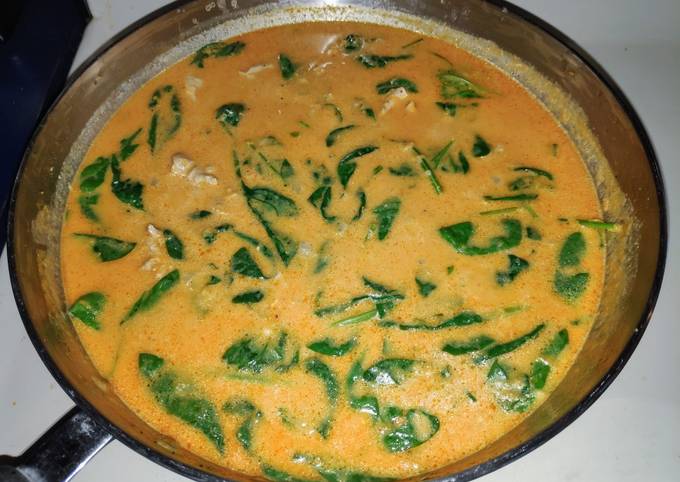 You can have Thai Chicken Curry using 14 ingredients and 6 steps. Here is how you cook it.
Ingredients of Thai Chicken Curry
It's 2-3 tbsp of coconut oil.
It's 1 of med/large yellow onion, diced small.
Prepare 1-1 1/2 pound of boneless skinless chicken breasts or thighs diced.
You need 4 cloves of garlic, finely minced.
Prepare 1 tbsp of fresh ginger, finely chopped (Or 1-2 tsp. Ground Ginger).
Prepare 2 tsp of ground coriander.
You need 2 cans (13 oz) of coconut milk (Unsweetened).
It's 1 cup of shredded carrots.
You need 1-3 tbsp of Thai red curry paste.
You need 1 tsp of salt, or to taste.
It's 1/2 tsp of black pepper, or to taste.
You need 3 cups of fresh spinach leaves.
Prepare 1 tbsp of lime juice.
Prepare 1/4 cup of cilantro, finely chopped for garnish.
Thai Chicken Curry instructions
To a large skillet, add the oil, onion, and sauté over medium-high heat until the onion begins to soften about 5 minutes; stir intermittently.
Add the chicken and cook for about 5 minutes, or until chicken is done; flip and stir often to ensure even cooking.
Add the garlic, ginger, coriander, and cook for about 1 minute, or until fragrant; stir frequently.
Add the coconut milk, carrots, Thai curry paste, salt, pepper, and stir to combine. Reduce the heat to medium, and allow mixture to gently boil for about 5 minutes, or until liquid volume has reduced as much as desired and thickens slightly..
Add the spinach, lime juice, and stir to combine. Cook until spinach has wilted and is tender, about 1-2 minutes. Add Cilantro or save for serving. Taste and add additional curry paste, salt, or pepper if needed..
Serve alone or over rice..